Multifaceted Creative Shopify Themes with Sections
Creative Shopify Theme from Zemez
The right choice of eСommerce platform is the key to the success of your online business. Today, the market offers a large selection of platforms, but Shopify remains one of the most popular. It combines high quality, ease of use, and a lot of convenient built-in features. On this platform, even a newcomer will cope with the task of creating his own online store. Shopify has thought through everything to the trifles: from the convenient organization of the product catalog to selective application of promotional codes for certain categories of goods or customers. Today we offer to familiarize ourselves with the new creative Shopify theme called Joy Box.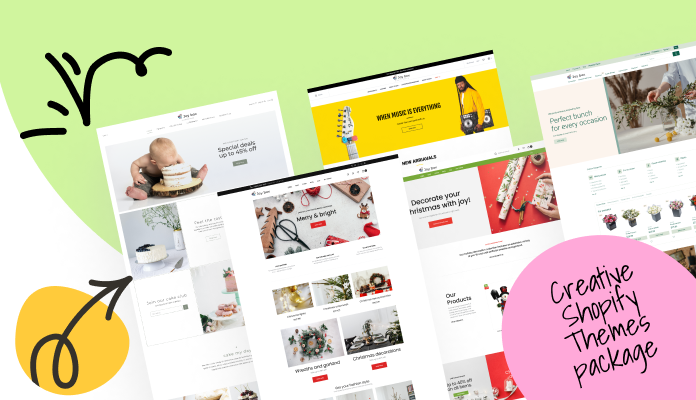 Shopify is very convenient to work with: you just need to create an account in Shopify, set up a store design, and download your products. Therefore, it does not matter whether you have technical skills. Here you will be able to quietly focus on selling your store, forgetting about technical issues. You can use the creative Shopify theme to sell goods or services, to present your company, and simply to create a portfolio or blog. This is a simple and efficient solution, fully ready for online sales, that will help you grow your business, no matter what you do.
You probably want to be sure that your online store will stand out and delight your visitors.
When you work with the creative Shopify theme, you can make sure that:
The theme is modern, light, and adaptive for all devices.
The theme is compatible with all modern browsers.
It has a responsive design and is optimized for SEO.
Offers customer support, quality code, and excellent feedback.
In addition, the great advantage of the theme is its universal design. You can customize it completely to your liking using the built-in settings panel.
What this Creative Shopify Themes package is made up for?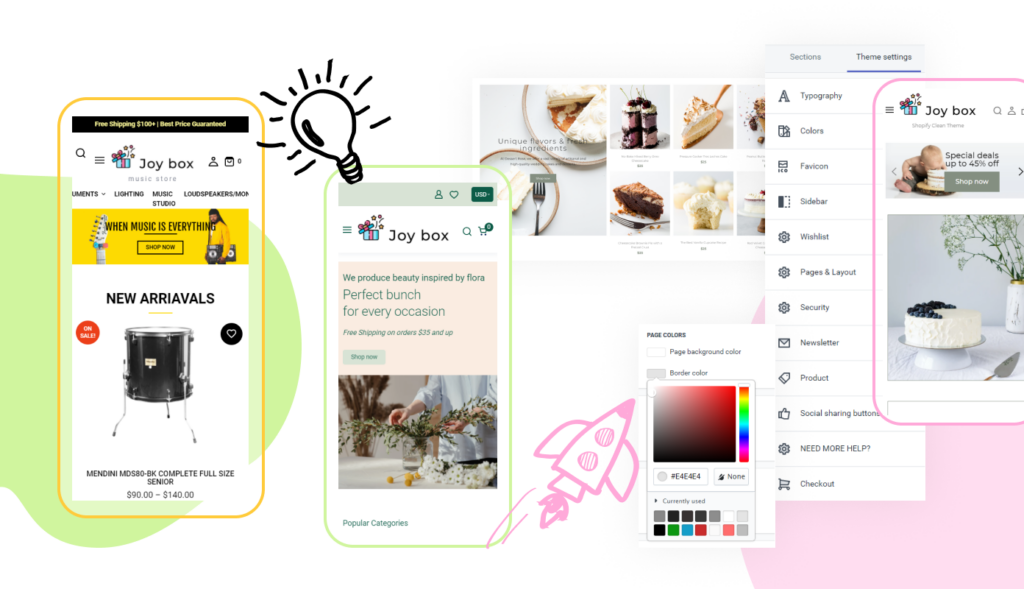 For sure, you are looking for a ready-made topic that will help you not only create an online store but also set up effective sales, automate your business processes.
We're sure you've already heard of the creative Shopify theme.
Shopify is a leading eСommerce platform and the best designer of online stores, allowing entrepreneurs to create their own online stores or drop-shipping business. It's easy to use, so you can create your own store even if you don't have the right experience. Without a doubt, this is the ideal solution for those who want to launch their own online store without the hassle and high financial costs.
You can sell online clothing, shoes, accessories, children's goods and flowers, cars, and food – this list is unlimited.
Shopify themes are also convenient because they already have everything that is necessary for e-commerce. Convenient basket, quick purchase, feedback forms – all this and much more you will find in the theme of Shopify. The Creative Shopify theme will be the perfect solution for your online store. It has all the tools and modules you need to create an ultra-fast, adaptive website with a stunning user interface, and a wide variety of layouts and styles allow you to create different structures and meet any specific requirements.
The multipurpose theme comes with many layout styles, including the ability to create different structures for the functionality of your websites, such as a sidebar or additional widgets for your fashion store. With detailed documentation, you can achieve much more with this product than you might expect from most other ready-made templates.
Make sure your store has everything you need:
bright elements, beautiful banners, call-to-action buttons;
logical, intuitive structure;
correct product placement and description/availability/price;
simple registration system;
high speed of web page loading.
Your online store is the face of your brand. This should make your visitors feel like they are welcome guests and encourage them to explore the products you offer. The developers did a good job and created such an amazing template that in principle it is already ready for launch, and let it not surprise you. In general, this is a distinguishing feature of all Shopify themes. Before you see the archive with the template, serious work has been done. In addition, you can check out the demo version to make sure that the theme really suits you.
Cross-Functional Multi-Concept Shopify Theme
This is a creative Shopify theme, designed to increase conversion and increase sales. Thanks to its clean and convenient interface, Joy Box is one of the best options for beginners who want to open their online store without any problems.
This theme is fast, adaptive to mobile devices, and compatible with different browsers. It includes all necessary functions and technical support.
Main features:
sticky button to add to cart;
recommended or related items;
mega menu;
currency converter;
product video;
product tabs.
Unlike other Shopify topics aimed at one or two specific niches, Joy Box easily combines with different business categories. Whether you're running an environmentally friendly store or a high-end designer accessory store, Joy Box can be your safest offering. This is a one-click theme, which means you don't need to be a programming professional to install this theme in your Shopify store.
What distinguishes it from other topics is that it allows users to customize settings to suit their business and branding needs. In addition, this is an ideal theme for creating stores with huge reserves.
You can easily customize your home page with ready-made sections such as banners, collection lists, blog articles, favorite products, product carousel, newsletter, etc. Use social media integration to attract more customers.
A registration form is an excellent option for communication with visitors. Place this form more efficiently at the top of the page to save a large percentage of email subscribers. In addition, it is easier for users to find a form without scrolling the page down and missing a large amount of information. Please note that it is important that the registration forms are simple and concise. Long shapes can be distracting and useless. You can also include subscription forms on your homepage to get your customers' attention as soon as they visit your site.
Conclusions
Multipurpose and responsive, creative Shopify theme is a modern and niche eCommerce template that is ideal for your e-commerce business. It includes several home pages, categories, and product options. The theme is constantly updated with additional features.
As a superfast creative Shopify theme with a one-click setup, the Joy Box solution is a convenient way to quickly create and launch a professional website. This theme works well with various plugins and pop-up options and is also great for simplified scrolling.
Joy Box is a fantastic example of versatility and impeccable design. This is an exciting theme with an attractive appearance, flexibility, and powerful functions. These qualities make it one of the most responsive and most convertible topics on Shopify.