Best Free and Premium Blog HTML Templates
Blogs abound on the internet. Some of them are established, others are emerging. Due to their newness, the latter ones have to contend with their competitors. There are many ready-made free and premium HTML templates on the internet that you can easily install and integrate into your website. Therefore, they need to differentiate themselves somehow. It could be the same for you if you're just getting started. Then, you will probably have a hard time coming up with a new topic since existing blogs probably already cover it.
Thus, the only way to differentiate your blog from the existing ones is to give it a style that has never been seen before. Even if you don't have any coding or designing experience or knowledge, don't worry.
However, choosing one from thousands and thousands of available options might prove difficult. This article will provide you with a list of the best free and premium blog HTML templates to help you make your choice. Now, working with a template can sometimes prove to be harder than you thought. If that happens, trusting in a professional web design company that knows how to create a website is your best option!
Let's dive right in.
How to choose the right blog HTML template
Prior to going through the list of templates, you should know which are the most important features the template you choose should have.
By having these, you will ensure your blog has all the essential features and functionality to meet all the needs of your users.
Here's the list:
SEO-friendliness. The free or premium HTML templates you choose should be optimized for search engines. It means it should load fast, let you manually optimize your website, and present a simple and clean code;
Responsiveness. This functionality will enable the users to visualize and interact with your blog from any device, regardless of the screen dimension and resolution. Thus, make sure to choose a responsive template;
Cross-browser compatibility. This will make users able to access and clearly view your website from any browser;
Easy customization. You should also make sure that the template you choose is easy to customize. This way, you'll be able to edit it according to your preferences and needs and make it unique and original;
Social media integration. Sharing your content across all of the most popular social media platforms can help you get more traffic and visibility for your blog. Thus, you should choose a template that will provide you with the option of adding social media sharing buttons to let users share your content;
Detailed documentation. The blog template you choose should also come with detailed instructions. So, you'll be able to access it and have a clear idea of how to install and customize the template.
Free blog HTML templates
If you've got a small budget or no money at all to allocate, here's a selection of the best free blog HTML templates you can easily download and import to your CMS.
Sportland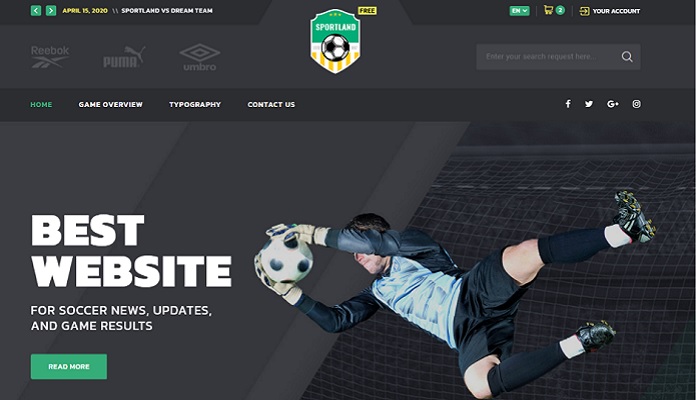 Sportland is a free HTML5 website template for soccer news, updates, and game results.
It includes a wide range of in-built elements that will help you enhance your website's functionality.
Also, it is modern, completely responsive, and SEO-friendly. Thus, it'll ensure you the best performance and your visitors the best experience.
533 Xtra blog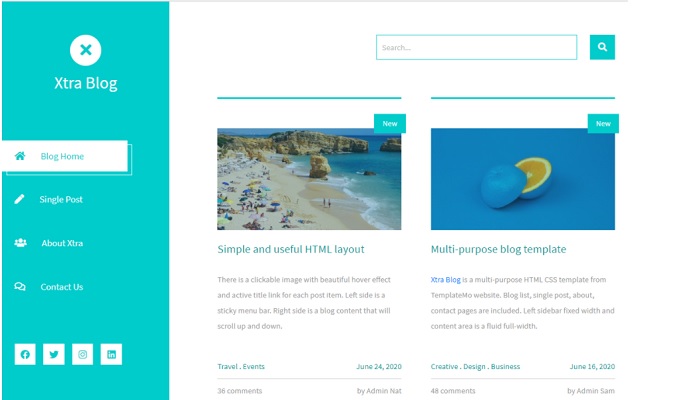 533 Xtra blog is a clean and minimal free HTML template for news. It presents a sticky menu bar on the left that allows users to reach any other page of your website instantly and effortlessly.
Users can also search for the content they are interested in directly on the site thanks to the integrated search engine.
Blaskan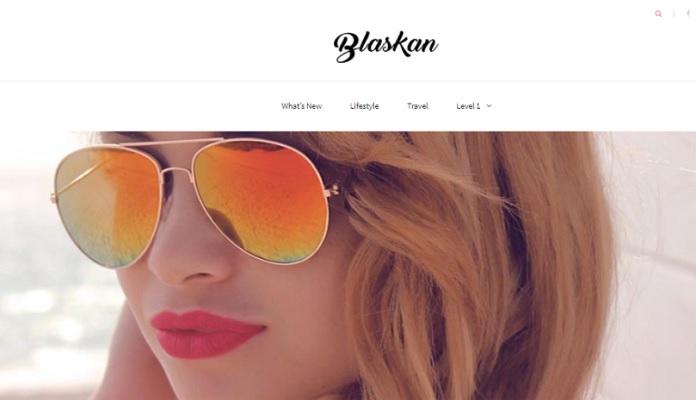 Blaskan is a free HTML template for blogs, news, and magazines. It is very clean and modern and can help you give an impressive style to your website.
It comes with extensive documentation that will guide you throughout the download, installation, setup template process.
Spurgeon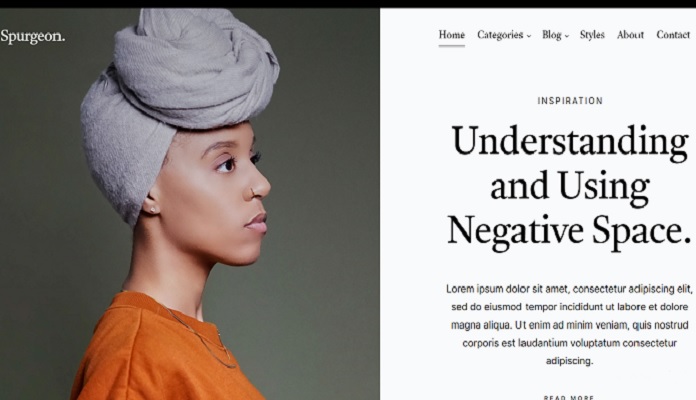 Spurgeon is a dynamic free blog HTML template designed for lifestyle bloggers and influencers. It presents an original and attractive layout and allows you to organize your content per category, topic, and so on.
It is a highly customizable and responsive template, which will ensure you the best performance and user experience.
Kate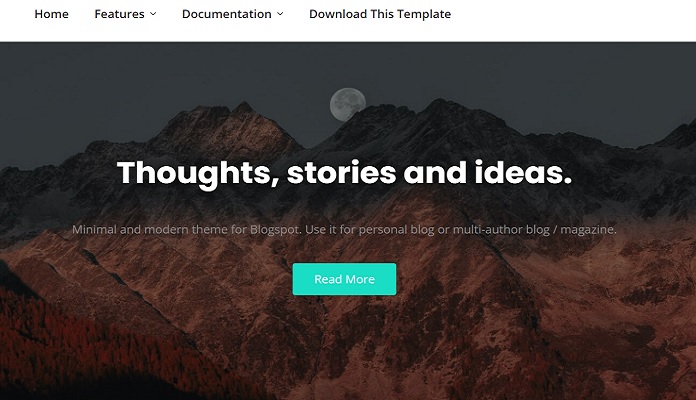 Kate is a blog HTML template fully responsive and flexible. It is the perfect option for those who want to create beauty, fashion, nature, and other related blogs.
This theme loads fast, ensuring you and your users the best performance and experience.
It also includes free written and video documentation to help you out with every phase related to the installation and customization of the template.
Loco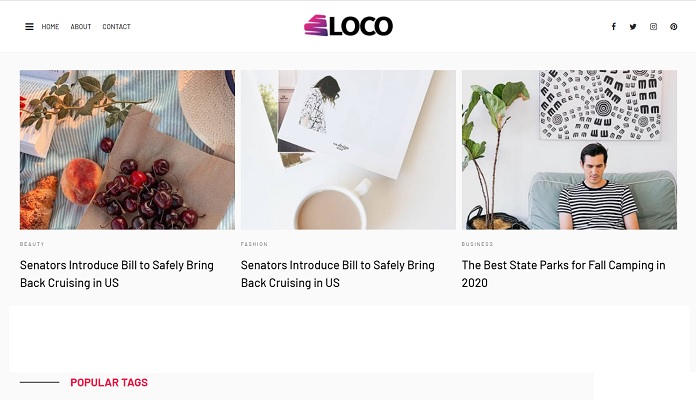 Loco is an HTML template designed for bloggers. It is the perfect solution for those who want to create blogs for travel, lifestyle, inspiration, food, health, and so on.
It is highly optimized and based on the latest trends and technologies. Plus, it is fully responsive; this means it automatically adjusts and adapts its width and dimension to the screen device the user is using.
Basel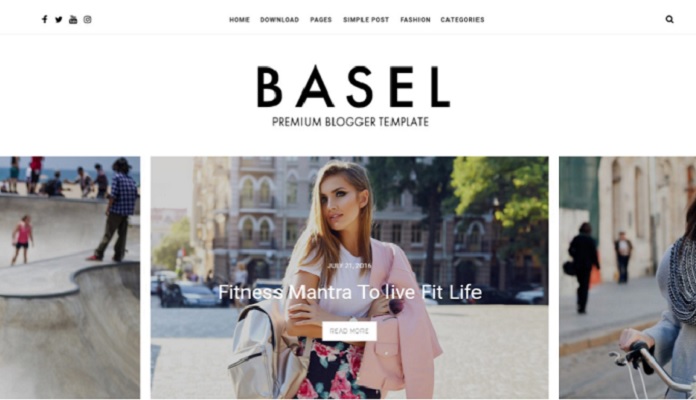 Basel is a modern HTML template that is ideal for fashion and personal bloggers. This template delivers multiple layout and style options, which will help you build a professional and attractive blog.
It comes with detailed documentation to help you on every step, from the installation to the customization.
Also, it is completely responsive and optimized for search engines.
Sylva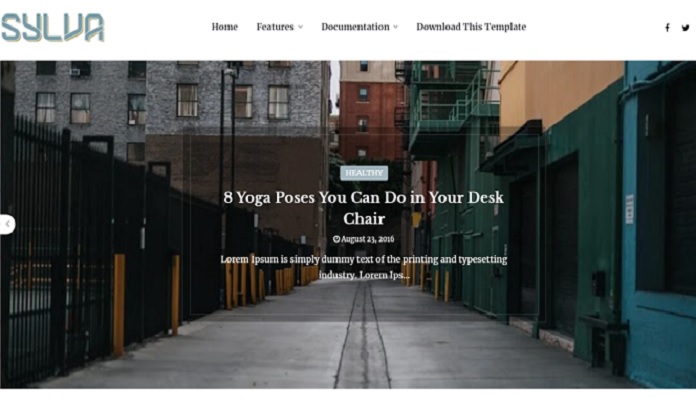 Sylva is a futuristic and modern blog template. It is ideal to create minimal, elegant, and clean blogs for niches like photography, lifestyle, sports, food, and so on.
Also, it has a highly optimized design and fast loading responsive layout. It includes social media sharing buttons to give readers the opportunity to share your content on the social platforms of their choice.
Plus, it comes with in-depth documentation to help you set up and customize the template.
Abstract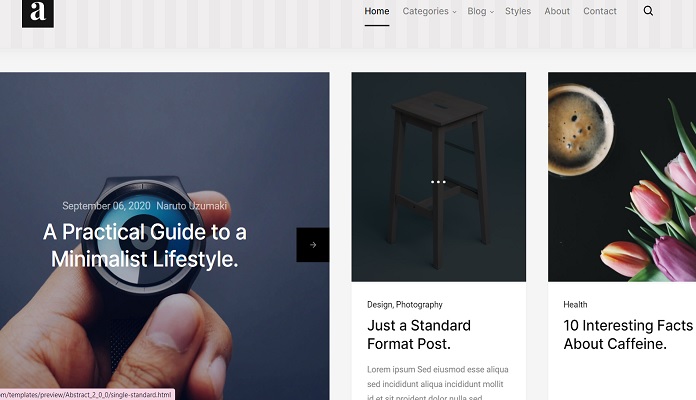 Abstract is a modern and minimal free HTML blog template. The design is clean and makes excellent use of white space to draw attention to the content and make it visually appealing.
The template is fully responsive and retina-ready. Plus, it is easy to customize, allowing you to edit it according to your needs and preferences.
Jack Blogger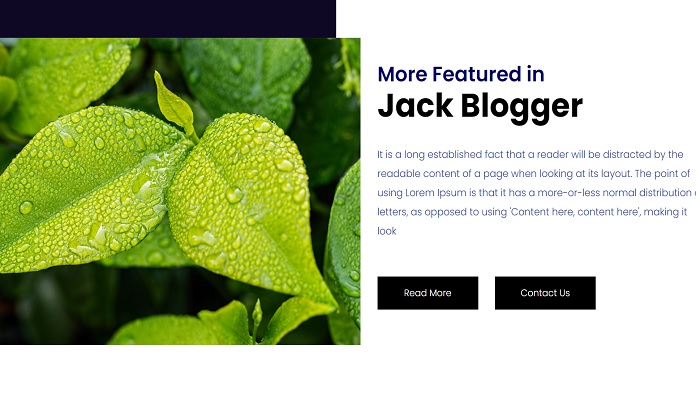 Jack blogger is a free HTML template perfect for those who want to build and showcase their content professionally.
It is a modern design that is fully customizable. What's more, this template is SEO optimized, compatible with all major browsers, and 100% responsive.
Premium blog HTML templates
The following is a collection of the best premium blog HTML templates for you to choose from that are designed to attract visitors and guarantee the highest level of performance.
KingNews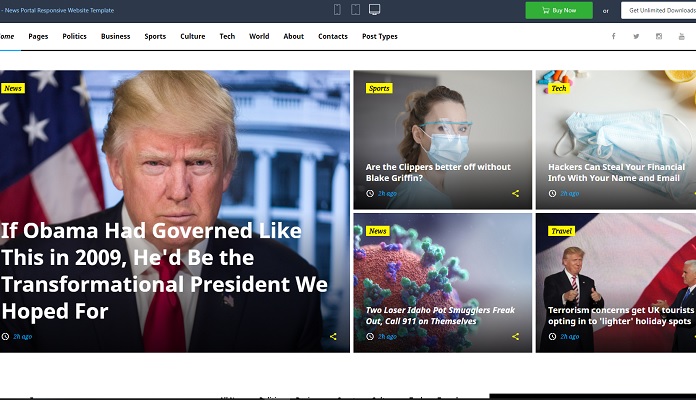 KingNews is a multipurpose HTML template for news and magazines. It offers multiple customization options letting you choose among different header and footer layouts, widgets, cool animations, and transitions.
It also has a responsive layout and is compatible with all major browsers. As a result, you can have users explore and interact with your blog on any device and browser.
Patron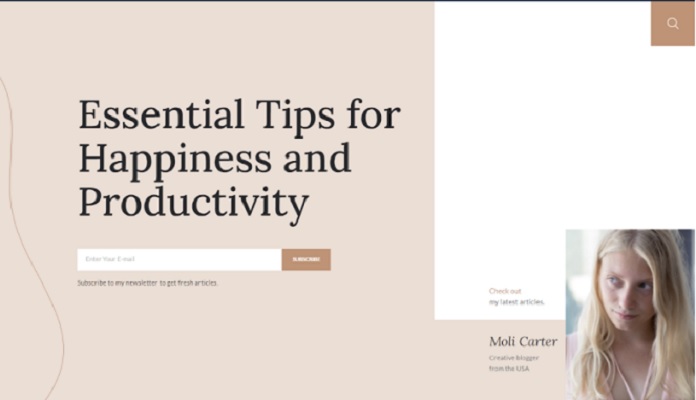 Patron is another excellent blog HTML template that presents a modern and clean design. The template comes with a vast set of UI elements and blocks that will help you enrich the user experience.
It has an ultra-responsive layout built with Bootstrap 5 and is optimized for search engines. Patron also gives you access to detailed documentation and support services to help you with any issues or questions regarding the template installation or usage.
Flog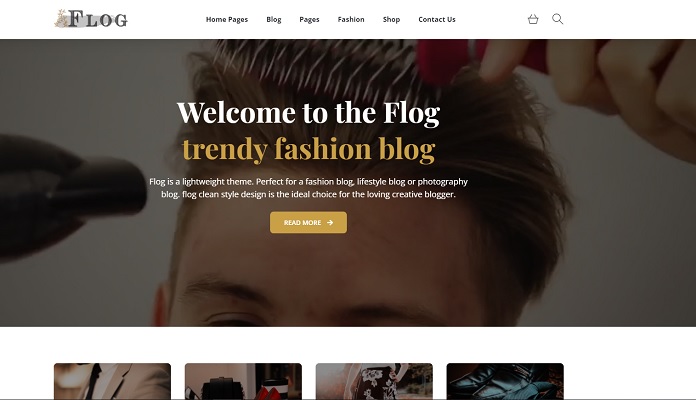 Flog is a modern HTML5 template for fashion blogs, but you can also use it for health, lifestyle, personal, travel blogs.
It presents multiple page layouts among which you can choose. Also, it gives you the opportunity to integrate a shop to sell products.
As well as being 100% responsive, it is compatible with all popular browsers and SEO-friendly.
Glossel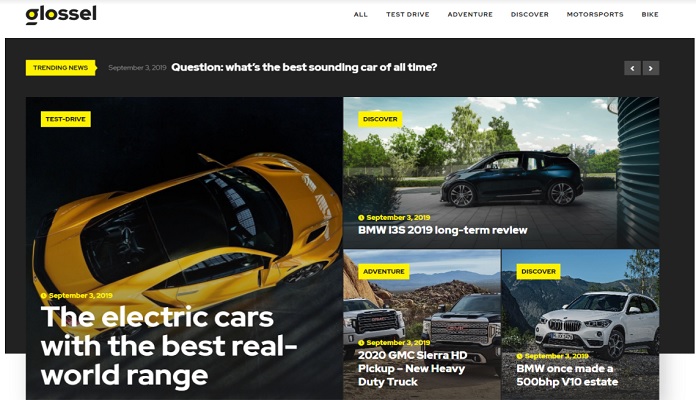 Glossel is a blog template for cars. You can install it with just one click and also access a set of free stock images dedicated to the topic of this theme.
This template is also WPML ready, which means you can make your blog available worldwide, and users from any country will be able to read your news.
Also, it is SEO-friendly and comes with detailed documentation.
BnNews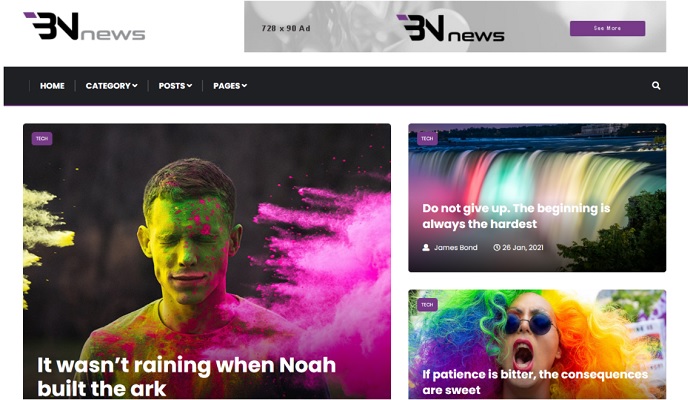 BnNews is a modern and dynamic HTML template for blogs, news, and magazines.
It gives you access to an enormous kit of UI elements and widgets, CSS3 animation effects, and transitions.
It is super easy to customize. Thus, you'll be able to adapt it to your preferences and needs.
Merimag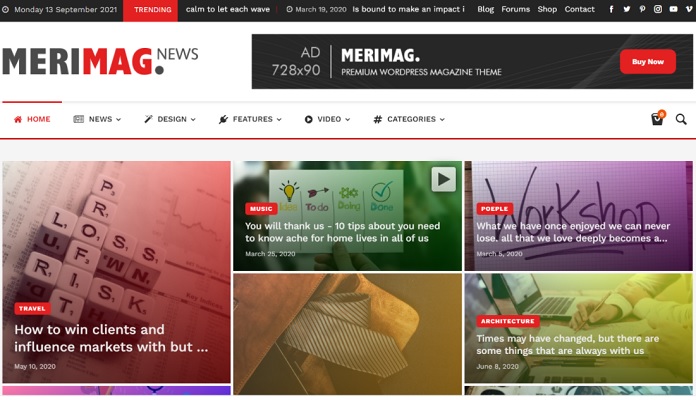 Merimeg is a blog template that you can use to share content about crypto, sports, lifestyle, gaming, tech, and much more.
It includes a mega menu that allows you to filter and organize all the articles per category, argument, video content, and so on.
Also, it supports the integration of social media buttons, which will enable users to share your content on their favorite social media channels.
Video blog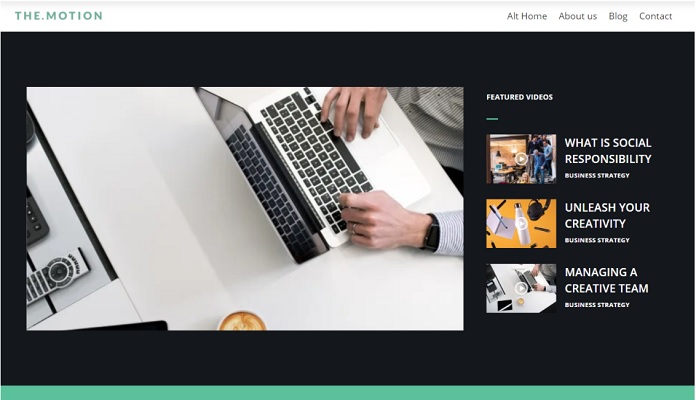 This modern website template allows you to share your favorite video content along with a written description. It is an original and more effective way to capture the attention of your visitors and make them spend more time on your website.
Even though videos are often heavy, this template uses a simple and clean code, making the website fast.
ColorMag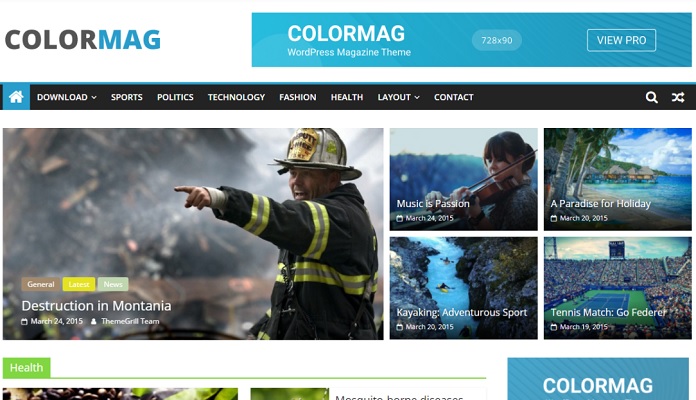 ColorMag is another great HTML template for news and magazines.
What's great about this theme is its performance in terms of loading speed, search engine optimization, cross-browser compatibility, and responsiveness.
You can easily customize it by changing color, typography, widgets, and so on. Also, it supports the most popular page builders, which will allow you to edit, add, and remove any element of a page using drag-and-drop compatibility.
Ncmaz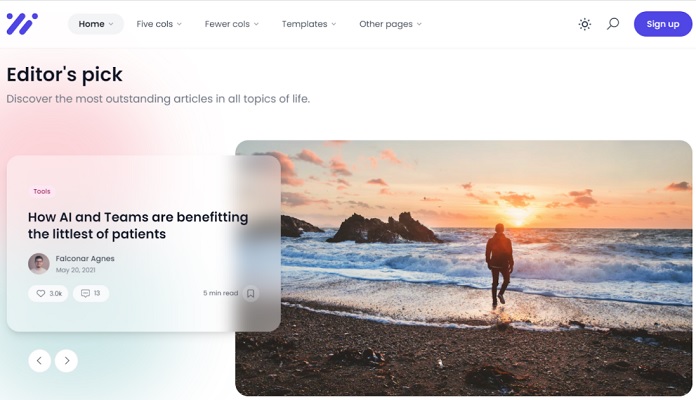 Ncmaz is a super modern blog HTML template. It allows you to display your content and preview it in a unique and impressive way.
It provides also a dark mode, which enables users to turn your website mode to dark at night time.
Also, it is 100% responsive and easy to customize, providing you with multiple style layout options among which to choose.
Crypto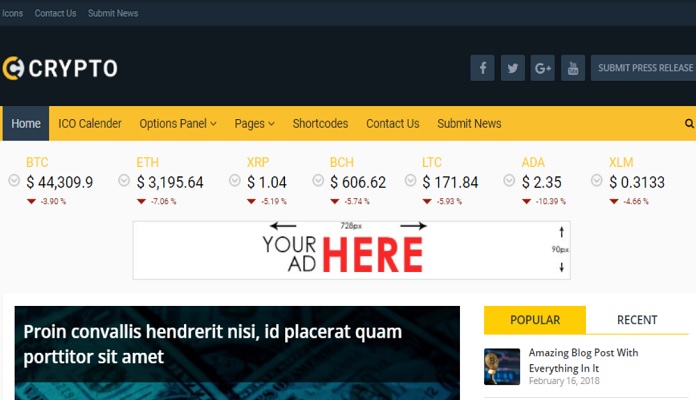 Crypto is a template for cryptocurrency-based blogs. It provides specific crypto-related features, such as live coin price, dedicated coin page, historical price data, and much more.
The theme also supports eCommerce solutions (e.g., WooCommerce), allowing you to sell the products of your choice.
Crypto presents an optimized code, which makes the theme super fast, and is fully responsive, allowing users to access and interact with it from any type of device.
Blog HTML templates FAQ
What is a blog HTML template?
A blog HTML template is a pre-built website composed of HTML pages that include integrated images, text content, and other essential elements.
How can I convert an HTML template to WordPress?
In order to convert an HTML template to WordPress, you need to:
Create a new theme folder;
Copy the CSS code;
Separate existing HTML;
Change the header.php and index.php for WordPress;
Screenshot and upload.
How to choose the best premium or free blog HTML templates?
There isn't a specif rule to choose the best blog HTML template. However, to ensure you're making the right choice, you can check that the template presents the following features:
SEO-friendliness;
Responsiveness;
Cross-browser compatibility;
Documentation;
Support;
Essential features;
Social media sharing buttons.
Where can I get HTML blog templates for free?
The TemplateMonster marketplace offers a huge selection of premium and free HTML blog templates for any needs and preferences.
What is the best CMS for a blog?
The following are the best CMSs you can use to create your blog:
WordPress;
Drupal;
Joomla;
Magento.
Blog HTML Template Ideas to Engage your Visitors
If you want to get some ideas to choose the right HTML template for your blog, watch the following video. It will showcase one of the best blog templates and its features to help you create an enjoyable blog.
Conclusions
We're finally at the end of this article about the best free and premium blog HTML templates. Hopefully, you found the right template for you among this selection.
If you want to consider more options or other digital products, you can visit the Template Monster marketplace.
Also, if you need help with the installation and customization of your website, you can consider using TemplateMonster's services and letting a team of experts takes care of your website.