Top 4 Text Editors for Joomla
Supercharge your Joomla website with one of the top 5 text editors. The content edition is a central part of a website, the most popular CMS, WordPress, focuses on editor enhancement in each new version. Joomla has taken another direction, giving free space to extension developers for an editor creation.
And this is what happened, currently, on the Joomla extension directory, there are 17 editors available. Few of them are a real Joomla component with WYSIWYG (What You See Is What You Get) interface.
Let's make the rounds of the best Joomla text editors on the market.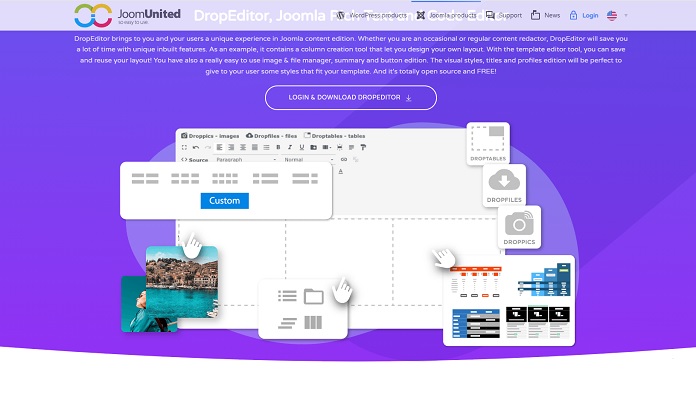 DropEditor is one of the most innovative editors on the Joomla market. The editor integrates extensions developed by the company behind it and has revamped the usual tools we use to find such extensions. Significant tools are:
– Advanced image manager
– Advanced file manager
– Custom columns manager: column creation with custom size
– Automatic summary: a summary based on article titles level
– Button creation tool: create, save and reuse buttons
–          Template saving: save the HTML structure of your content and reuse it
– Custom style visual edition: create a style with custom CSS and load it in the edition interface
– Custom title visual edition: title override tool
– Easy to use link manager: link manager to Joomla menu and content
– User profile with Joomla ACL: create custom profiles for the editor
– HTML colored code with automatic tag creation
The editor is free and optionally can be upgraded to advanced image/Files/Tables manager and support.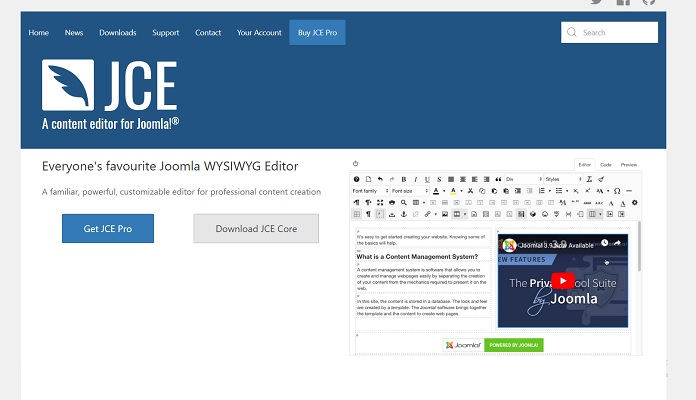 JCE is one of the oldest editors for Joomla, it exists since Joomla 1.0. This is a more classical text editor but the structure is rock solid and it's highly maintained.
Important points are:
– Office-like usage and formatting not to be lost
– Image manager allows you to: upload, rename, delete, copy &paste, insert them into your articles
– Link manager gives a shortcut to Joomla categories, articles, and menus
– Syntax highlighting in HTML edition
– Spellchecker tool using your browser's Spellchecker
– Lightbox tool for images
The editor is free and optionally can be upgraded with a plugin set like advanced image, file, media manager, and support.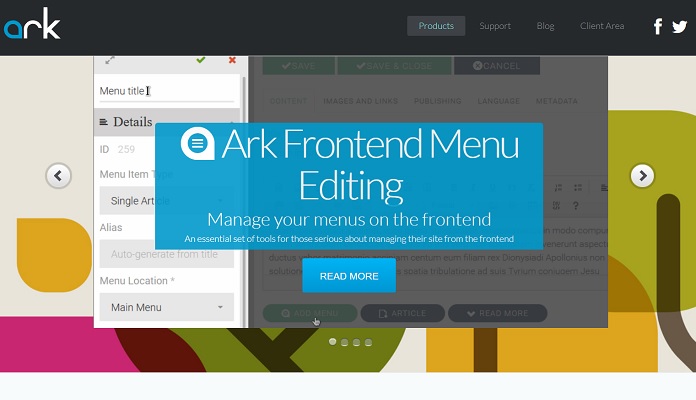 ARK Editor has the particularity of allowing an inline edition of your content. This means that you don't need to open your content on a dedicated page to edit it, even from the front. Just click on it and edit.
It contains classic edition tools plus advanced plugins such as:
– Inline editing
– Image uploader and manager
– Content versioning
– Word copy/paste tool
– Link manager for making easy links to articles, menus, or components
– Typography package
The editor is free and optionally can be upgraded with a plugin set like advanced file, media manager, and a dedicated media folder for users, and support.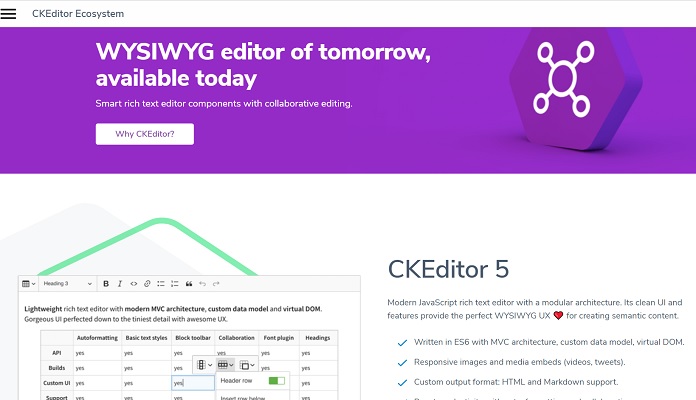 CKEditor is also one of the oldest editors for Joomla too, it has been developed for years. This is a more classical editor than the previous one, but if you need to start fast, you'll enjoy seeing that you know the major part of the tools inside.
Notable tools are:
– Configuration integrated with Joomla! administration pages with custom edition profiles
– Drag'n drop tool to make it available in the edition toolbar
– Paste from Word feature
– Tool to style your content
– XHTML valid code generation control
– Bad formatting filtering
– Full accessibility support for the entire interface
The extension is free and optionally can be enhanced with CKFinder (a media manager) and support.
In conclusion, we can say that there are classical editors like DropEditor or JCE that should be used on the major part of the Joomla websites because:
– They'll save you a lot of time with easy to use interface for recurring tasks like image or link management
– Transform redactors text into valid HTML code
Specific editors like YEEditor are more an enhancement of the Joomla layout inside an article. This would be very helpful in projects that require multiple layouts per page.