Meet F2 – A Free Magento Theme with Premium Features
If you own a Magento-based store, you know that this ecommerce platform is one of the best of its kind. It is difficult in development, but is extremely scalable and robust. Now, when Magento 2 is available, it's time to consider transferring your store to the new version.
Here are some of the most significant innovations introduced in Magento 2:
Better checkout
The checkout process in Magento 2 has been improved in terms of usability introducing guest checkout, automatic credit cart type detection, and becoming more streamlined.
Improved caching
The full page caching of Magento 2 reduces the page loading time and the amount of server resources required for store's proper operation.
New file structure
The file structure of the new Magento is simpler and more developer-oriented.
Reduced table locking
Table locking has been a common problem of large Magento stores with a lot of traffic. It occurred when many customers attempted to place their orders simultaneously, using the same database table. In Magento 2 it's no longer an issue.
Easier customization
Magento 2 includes Visual Design Editor. It will allow you to modify the layout of your theme in a user-friendly WYSIWYG way.
---
Such innovations definitely make Magento 2 worthy to be updated to. But the CMS itself is not enough for an effective full-featured store.
There are not many Magento 2 free themes around, that's why having one at hand can be very beneficial, especially if you are on a tight budget, and can't afford a pricey premium template.
Although Luma (a default Magento 2 theme) is OK to start with, there is a better option – free F2 Magento theme developed by TemplateMonster. Designed for fashion stores in the first place it, however, can be easily customized and repurposed.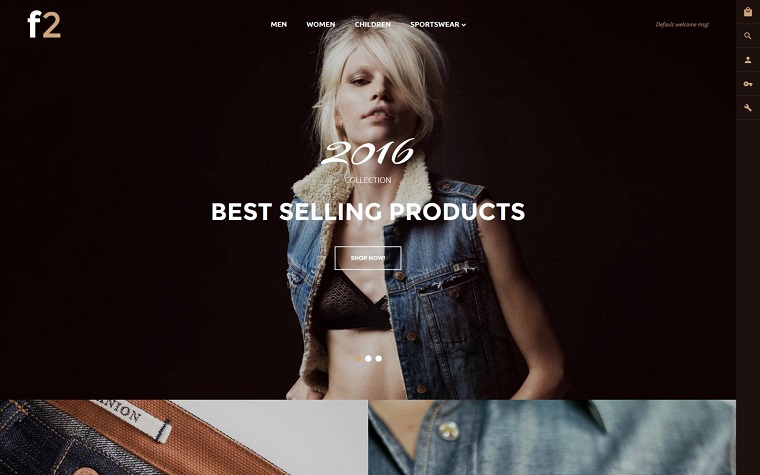 ---
Why opt for F2?
Both Luma and F2 are free Magento themes, they differ in many things. From our review you will learn:
How effective are they when it comes to mobile devices;
How do they act on large displays with high resolution (like 2048px);
What additional features does F2 have that Luma doesn't;
How can your fashion store benefit from using F2;
And many more.
If you are ready to bring your ecommerce store to a new level, check out the review of F2 and download this free theme.